Header bidding is thriving in mobile channels and  is now "synonymous" with programmatic advertising, claims PubMatic's Q2 Quarterly Mobile Index Report.
The growth has been particularly apparent on mobile browsers and apps.  The report found that monetized impression volume grew at more than twice the rate of desktop while mobile web header bidding eCPMs improved nearly 150% .  The report, created  after analysing billions of ad impressions served across the platform, provides insights for both advertisers and publishers alike.
Monetised header bidding impressions rose 149% year-on-year in Q2 this year. and in May, over 80% of global publisher impressions used header bidding. Although desktop header bidding remained dominant, with the figure actually increasing from 2016, mobile header bidding more than led the way,  growing by a whopping 285%.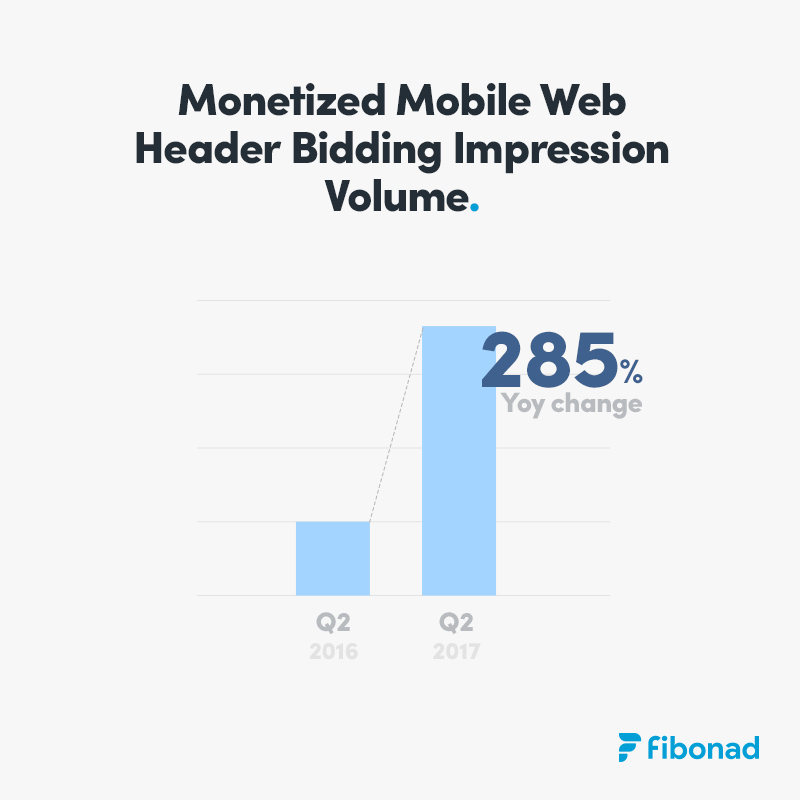 In terms of functionality, header bidding does work slightly differently in-app and on mobile web as opposed to desktop.  The purpose of header bidding, whether browser or in app, is to capture real-time data for multiple demand partners, before the ad reacher to the server. So, the actual function doesn't change but the mechanics can change in an app environment, while the mechanics and function remain the same as desktop on the mobile web.
In addition, the report found that emerging formats such as native and video also saw significant growth in the use of mobile programmatic advertising. It showed that mobile devices represented 67% of such native impressions in Q2 and it is expected that this will only increase, as publishers continue to focus on this format.  Regarding video, mobile accounted for almost one fifth of programmatic impressions, with 72% of such impressions served in the US. 25% in EMEA and 3% in APAC.
The increased focus on transparency in the programmatic sector was credited to a growth in the use of PMPs in mobile programmatic, with impressions increasing for the sixth quarter in a row, reaching 73% year-on-year growth in Q2.  As well as this, the growth in mobile programmatic advertising was particularly with mobile apps too: the volume of impressions more than doubled, growing 107% year after year in Q2.
In line with these findings, we're experiencing similarities as the use of our native, video and programmatic services grow tenfolds.
Want Fibonad to take control of your advertising goals and needs? Get in touch!