A DSP (demand-side platform) is software used to serve ads on mobile, in-app and desktop in an automated fashion.  DSPs allow advertisers to buy impression spaces on publisher sites and fill them using banners, videos or Native Ads.  The beauty of DSPs is that they allow for advanced targeting settings when "choosing" who to display the ad to (more about that later).
Publishers make these spaces available to advertisers via an ad exchange (to which the DSP is connected to) and they automatically decide which impression is best suited for the advertiser to purchase.  All this, done in real-time.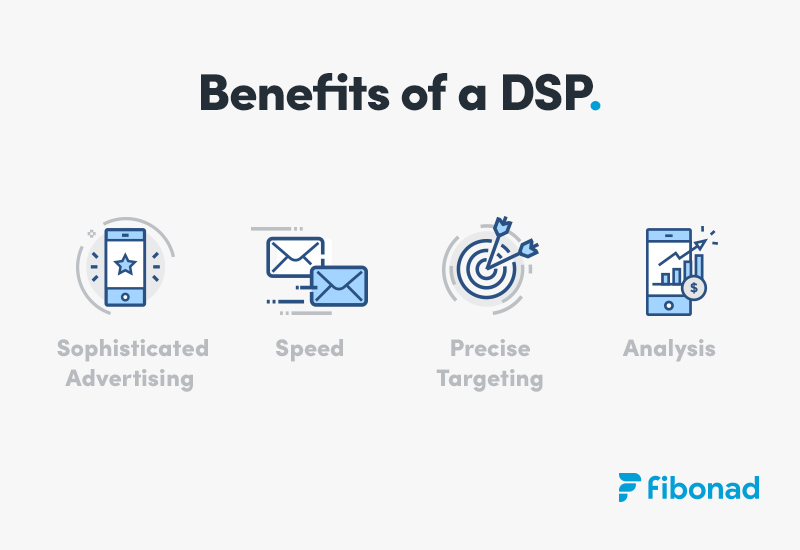 So what can a DSP bring to your advertising game?
Sophisticated Advertising
DSP platforms allow for the most up-to-date of formats.  Our DSP, for example. offers a whole host of formats whether it be Native Ads, Video and Display.  These formats have been proven to lead to higher engagement, higher conversion rates and an improved brand awareness.
Speed
The whole process or Real Time Bidding literally takes places in milliseconds.  Working alongside SSPs, advertisers can place bids across all kinds of ad exchanges in real-time.  This means that the location of your advertising and impressions are always based on updated info.  In turn, ads will ultimately get put into spaces that are relevant for your campaign.  A DSP also helps you access multiple ad exchanges at the same time.
Precise Targetting
DSPs allow for extreme targeting, meaning the right user is reached and no money is wasted on techniques which will inevitably generate revenue. Our DSP allows to target based on co-ordinates and impact users by geolocalisation.  Targeting can be done down to a T being able to separate settings into Operating System, whether you want to impact upon Mobile or Desktop, a particular Device, a certain carrier or by introducing specific IPs.  That way, with this exactness, advertisers are rest assured that money is not wasted in their campaigns and will actually see an improved ROI.
Analysis
Reviewing campaigns and carrying out optimization is relatively easy given the insights a DSP offers.  They allow us to view, for example, the volume, average price and click-through rate of bids and campaigns.  All this info is produced in real time, meaning monitoring campaign progress is straightforward and be capitalized upon for the following campaign.

Using a DSP platform you can trust

So to sum up, DSPs are essentially to creating campaign success.  Luckily enough, at Fibonad, we provide our own in-house developed DSP platform, through Mobusi.  The platforms efficient, precise targeting settings, combined with the fact that it's generated in-house means not are we only able to really make the most out of advertisers' campaigns, but so too, are we able to optimize and act in real-time, thanks to our extensive stats.
So, if you're looking for a DSP to meet your advertising needs and goals, get in touch with Fibonad!