As a group, we're never ones to miss out on an event.  And we'll travel all across the world to be able to visit our all important clients and partners.  This October is no exception for Fibonad as we hit up 3 seperate events across 3 different countries and continents.
So where can you find us?
South Summit 2017
Madrid, Spain
South Summit event is where Innovation Meets Business .  It connects the most innovative entrepreneurs with the most important investors in the world and the corporations seeking to improve their global competitiveness through innovation.  There will be keynotes and debates between some of the biggest names in the industry as well as success stories about start us. Here, the future is discussed, shaped and moulded.  Where the newest ideas and talent comes to life.Representing Fibonad at the event will be:
eCommerce Summit & Expo 2017
Mexico City
ECSE is considered the new meeting point for the eCommerce community in Mexico.  ESCE brings together the main eCommerce powerhouses in the industry together to offer the opportunity to share success stories, gain new experiences and strengthen knowledge through a program of conferences and networking activities.The Mobusi Mexico team will be there on hand, including: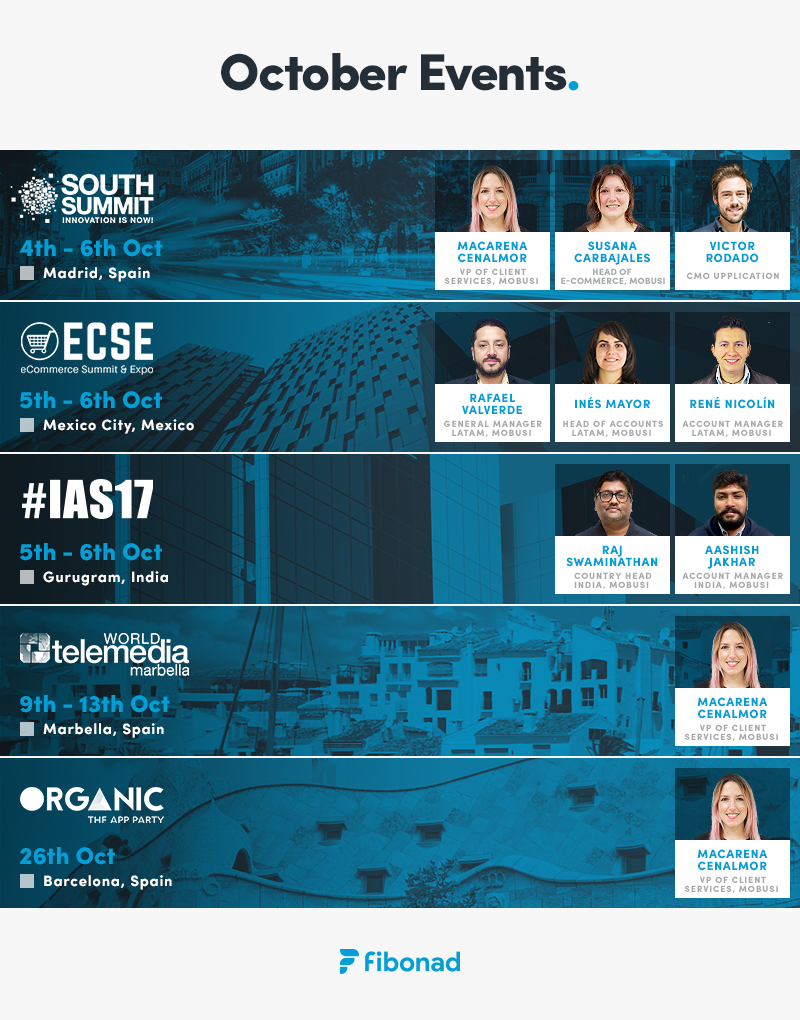 India Affiliate Summit 2017
Gurugram, India
The India Affiliate Summit is considered the premiere offline meeting point for affiliate marketers, thought leaders and key stakeholders get together, to discuss innovations, dissect implications and dwell upon the substantial potential of this booming industry.  It is designed to revolutionize the affiliate marketing space in India. Spread across two days of networking and innovations, the Summit is segregated to provide you ample opportunities to socialize with fellow affiliates and brands alike, with the Affiliate Street being the main attraction for those keen to explore specific business opportunity.The mobusi team will be there made up of:
World Telemedia Marbella 2017
Marbella, Spain
World Telemedia is an event for any business that wishes to engage and commercialize "connected consumers" whilst they use mobile devices and telephones; to interact with value added service and content propositions. The four-day event takes place in Marbella  and is the only European event that showcases how carrier billing and other alternative payment platforms are evolving to create a dynamic "Telemedia" value chain.  Mobusi will be there, representing them will be:
Organic: The App Party
Barcelona, Spain
Organized by PickASO and TheTool, ORGANIC is the meeting point for App Marketing professionals, where they can find out the top app marketing tends and success stories from big companies, brands and startups.  Mobusi will be going along to the event:
So feel free to get in touch with any of our attendees if you too are going to be hitting up these top events around the world!