Lab Cave, Fibonad's Mobile Growth Company, recently launched a new product, Advertising Mediation for Apps. The team took advantage of the company's 6th year anniversary and its participation in the Mobile World Congress to present their newest innovation to potential clients. This mediation tool will be added to Lab Cave's product portfolio alongside its App Store Optimization (ASO) services.
Lab Cave's development, mediation, production and design teams have been working since 2018 to create a completely impartial and transparent Software as a Service (SaaS) mediation tool, in order to provide a powerful and flexible solution for developers to efficiently manage their in-app inventory.
So, what is a Mediation Tool?
"A Mediator for Apps is a set of tools that allow developers to configure, optimize and analyze the performance obtained from various advertising providers through a simple and unique integration."
Let me explain… Imagine that you're planning a trip and you want to book a hotel. Normally, you would go for Hotel A, since this is the company that usually offers the best rates but, at this particular time, Hotel A doesn't have any good offers. Instead, Hotel B or Hotel C are the better choice. In order for you to avoid manually comparing each company's offers, you have the option to use a hotel comparator (Booking, for example), which will give you the best hotel options, out of hundreds of possibilities.
A mediator works in a similar manner to that of a hotel comparator. While a user looks for the best quality/price ratio option in a hotel comparator, in a mediator, what developers look for is the ad that will bring the highest revenue among many different advertising networks.
In addition, with a mediator, a lot of time and effort is saved given that only one single Software Development Kit (SDK), which works for all networks, has to be implemented.
Why should I choose Lab Cave's Mediation Tool?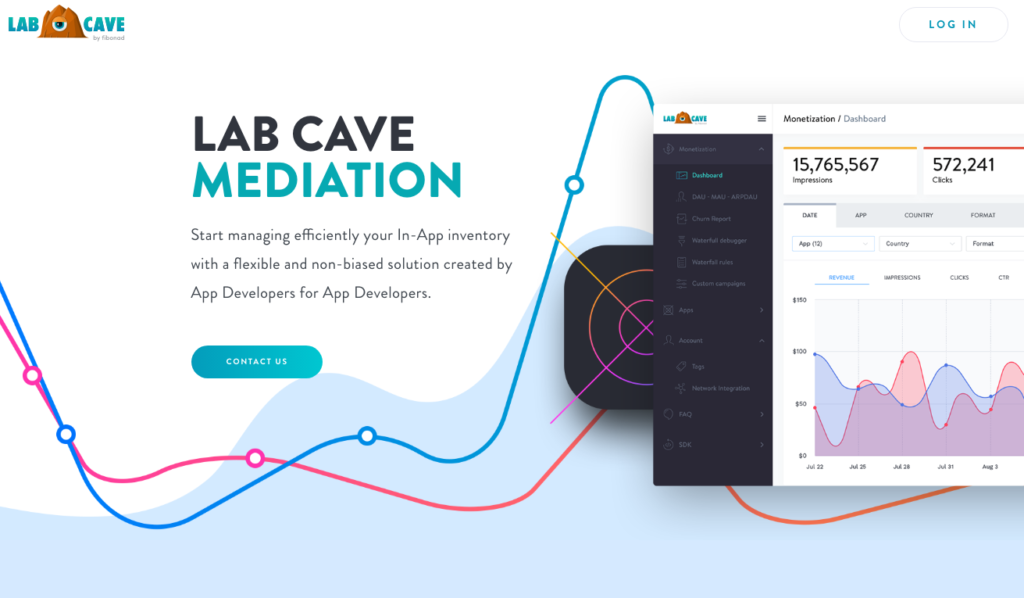 Usually, mediation tools use their own proprietary advertising networks, this means that when a mediator has overall control of their prioritization, it is common that their own network will appear first, regardless if it's the best option or not.
Since Lab Cave's mediator does not have a proprietary network, it will not prioritize any single network. Instead, it will show the option that better maximizes app revenue. Also, the developer will be able to prioritize a specific network if, for example, he/she has an agreement with said network. Apart from this, the developer will have the option of customizing the waterfall.
On the other hand, Lab Cave's mediator, apart from offering ad statistics, also shows insights on user and developer behaviour.
Are you ready to try out Lab Cave's Mediator? Contact us to learn/ find out more.