It's been a colossal year for Fibonad and all our companies.  This year marked the foundation of our company and so much more! So let's take a look back at some of the highlights of the year.
Fibonad was officially launched on July 13th after much waited anticipation! Our goal with Fibonad? To englobe all of our companies and position ourselves as leaders of the global advertising transformation.  We're already off to a promising start, thanks to the foundations already set with the likes of SunMedia in terms of Branding, mobusi leading the Performance market and being able to Publishing solutions via Lab Cave and Instasent.
Our success as a company was clearly marked after being included in CEPYME500 as one of the top 10 companies in Spain.  Out of a list of 500, we were credited on our fast growth as a company as well as our ability to create employment and international position.
The year brought many acquisitions to the group; among them, mobile gaming company, Lab Cave Games.  The company has launched 300+ games on iOS and Android and has been able to reach almost 150 million organic downloads on the App Stores.   The company has gone from strength to strength and has now extended its services to ASO, content providing and publishing.  However, Lab Cave wasn't the only company to join the group as online-app creating platform, Upplication, was acquired, seeing our company grow even further!
Not only this, mobusi and SunMedia saw their workforce grow internationally.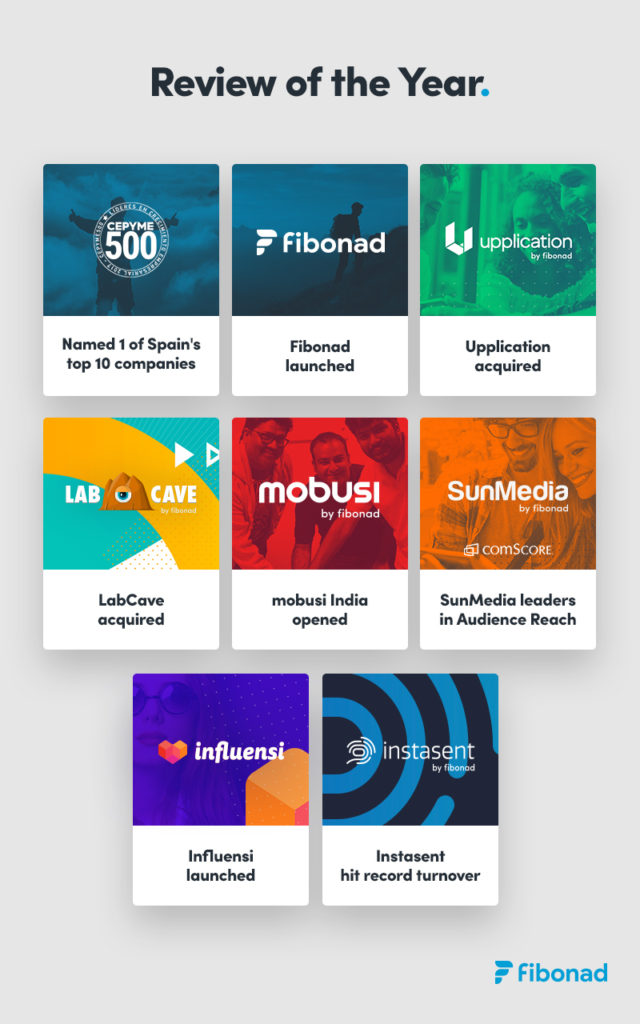 SunMedia, officially opened our their office in Latin America, seeing Isela Abarca hold for as General Director Mexico and LATAM. They also expanded to the UK, with Northen Europe General Director, Iain Wilson, taking charge of operations at their London office.
Despite having a team in place in India for many years, we officially opened our Mobusi India office, enabling clients to have a direct port of call for their performance needs, as Raj Swaminathan took charge as India Country Head.
We introduced many products and services onto the market, among them influensi, our influencer platform which links together the market's top influencers and brands, helping brands to reach their target audience and influencers, in turn, to monetize their followers!
In 2017, we clocked up a whole lot of air miles, hitting up more than 30 of the top mobile, affiliate, performance, video, games events this year, making ground in five continents all over the world,  We hit many records this year, with Instasent reaching a record turnover and SunMedia maintaining top spot in terms of Audience Reach, according to comScore.
With the new additions to our family, our workforce has grown immensely, with 250 employees making up the group across our 5 offices.  The future's bright for Fibonad as we continue to strengthen our in-house developed technology and solutions for our clients.
2018, watch this space! It's going to be big!