A new month is upon us and the Fibonad group is off to various events around the world including Madrid Mobile Summit in the home of our HQ!
Web Summit 2017
Lisbon, Portugal
6th-9th November
Web Summit is considered the largest technology conference in the world and takes place in Lisbon, Portugal.  The event aims to connect the technology community with all industries, both old and new with some even calling it the "best technology conference on the planet". Our Mobusi team will be there, made up of Macarena Cenalmor and Andreea Cretu.
Madrid Mobile Summit 2017
Madrid, Spain
14th-15th November
Usually held in Israel, this year the Mobile Monetization Summit is coming to Madrid for the first time! When it comes to mobile, Spain is one of the most significant players in Europe, with more and more mobile and mobile advertising companies entering the market each year.  Madrid is home to some of the biggest and best international and Spanish brands, advertisers and publishers, with Fibonad being one of them.  So join us for this top event in our own backyard, where we'll talk innovation, entrepreneurship, app & game design, mobile marketing & advertising, user acquisition & retention, mobile web & affiliates, analytics & tracking, discovery/ASO, IoT, VR/AR and a whole lot more!  Our Mobusi, SunMedia and Lab Cave teams will be there representing Fibonad!
G-STAR 2017
Busan, Korea
16th-19th November
G-STAR is Korea's is an annual trade show for the computer and video games industry.  It is Korea's largest, and most comprehensive, international gaming exhibition featuring the world's leading games and industry professionals in one location.  All game sectors meet at G-STAR to share their views and develop their business. Every sector is represented, whether it be online, VR, mobile, video, PC, console, indie, board and arcade gaming. Whichever of these you belong to, you will find a plethora of contents and products to drive your business forward.  Our Mobusi KR, CN and JP Country Manager, Danny Han, will be there!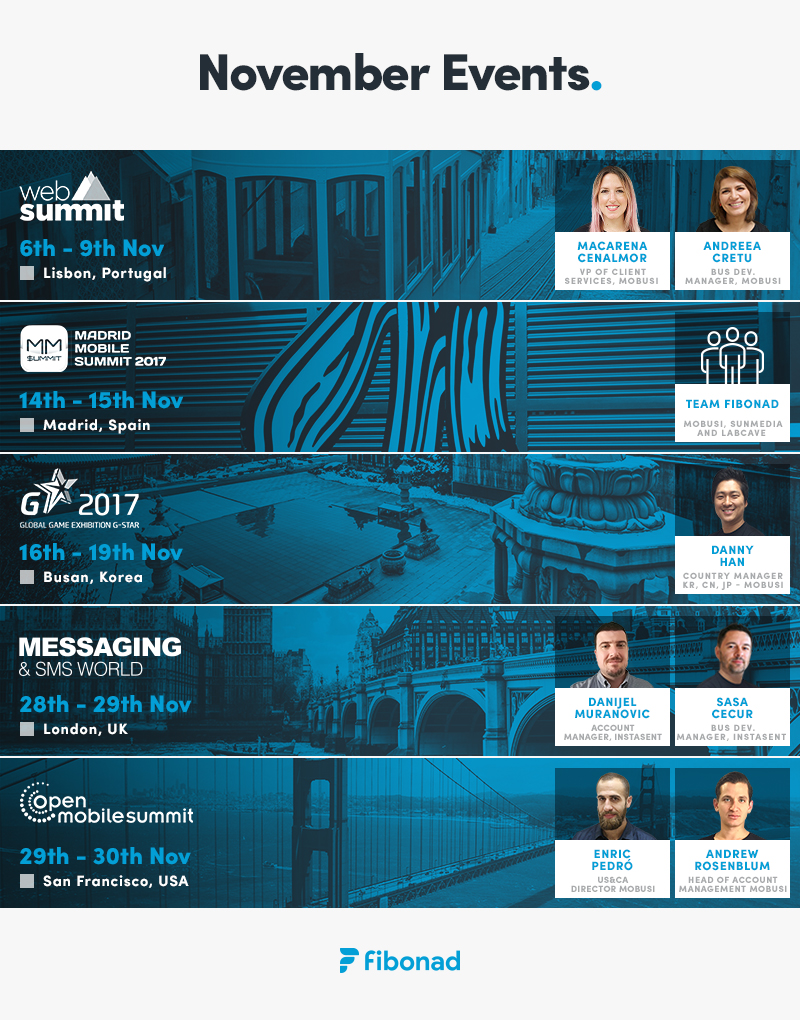 SMS & Messaging World 
London, UK
28th-29th November
Now in its fourth year, SMS & Messaging World is the only meeting for the Global Messaging Community.  The event brings together MNOs, aggregators, wholesale carriers, leading messagin players and innovators in VoIP and RTC technology.  The event also aims to promote steps in local and global fraud management to ensure the A2P messaging industry will live up to its full growth potential. Our Instasent team will be at the event in London.
The Open Mobile Summit 2017
San Francisco, USA
29th-230th November
Then our team in USA will be attending the Open Mobile Summit 2017, the biggest B2C Mobile Event in America for Mobile Product, UX/Design and Mobile Marketing Executives.  It's the definitive mobile consumer event, no other conference gives you such a complete view of the mobile world.  Our Mobusi team will be there, so be sure not to miss it!
If you want to get in touch with any of our teams at these events, contact us to set up a meeting!